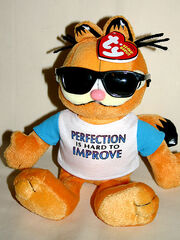 General Info
Edit
Birthday: N/A
Style Number: 40629
Introduced: 4/30/2007
Retired: No, still available where Beanie Babies are sold.
Swing Tag Generation: 15
Tushtag Generation: 13
Garfield Perfectly Lovable's Poem
Edit
Note: This Beanie doesn't really have a poem, but really a saying.
Perfectly Lovable!
Other Info
Edit
This Beanie is one of the different Beanies that TY made that are based on real things, like Dora, Garfield, etc.
Appearance
Edit
This Beanie Baby is larger than most, with the cartoon Garfield design with shades that can be moved. The shirt that it is wearing is white with blue sleeves that says "Perfection is hard to improve" in black text.